One of the core qualities that must be foundational in a business relationship is respect. Without mutual respect, it's impossible to move forward with a chance of reaching shared goals. It's imperative to the relationship. Respect is defined as "Due regard for the feelings, wishes, rights, or traditions of others." At LaPlante Real Estate, we try to work every single day with this in mind. We have respect for the owners we help. We have respect for the residents we house. We have respect for our fellow employees.
Every day, we are faced with multi-layered decisions that affect the lives of others. When a simple maintenance call is placed to our facility, how we handle those calls may have a cascading effect on multiple levels. A resident is affected by the problem. A rental property owner is affected by the cost. And employees need to balance both sides with empathy and respect. Without respect for each person, we would quickly lose our soul and fail as a company. It's the only way we can function together as a team and have a successful partnership.
We strive to commit ourselves to full transparency to our owners. This helps to promote a sense of partnership and accountability between us. Our owners matter to us. We are proud of the systems we have in place to protect their monetary interests. The trust we have been given is never taken for granted. Every day we work as a team on the issues we're trying to solve for owners in order to move forward. Our team never takes our responsibilities lightly. That trust is deep rooted in our company mindset.
Many of our residents have also been with us for years. Our team works hard to develop positive relationships with them. We receive calls regarding maintenance and other affairs. We also receive calls regarding relationship changes, monetary concerns, and from people who simply struggle with loneliness. While many of the calls aren't our strict responsibility, we treat every person with dignity and a caring heart. Our residents can walk into the lobby every day, and our team is familiar with their story. It's a part of who we are.
LaPlante employees know from day one that they have joined a team with high expectations that strives for excellence. Respect is one of those expectations. If one of our team is buried, we lend a hand. If someone is having a hard day, we help to lessen the load. If we have a success, we celebrate together. We support each other – both inside and outside the office. We are truly a team who care about the success of the whole company, and the personal success of our coworkers.
To maintain a high level of respect throughout our company, we consistently meet as a team to review our performance and to make suggestions for improvement to better serve our owners, residents, and each other. This translates to a work culture where authenticity, empathy and excellence has space to grow and thrive.
LAPLANTE CORE VALUES
Service • Leadership • Accountability • Authenticity • Commitment • Teamwork • Respect • Excellence
---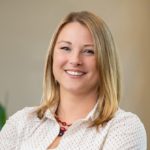 Heather Kolar
Director of Accounting